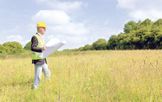 The total value of land transactions for real estate projects, except for the industrial segment, grew significantly last year compared to 2016, surpassing the value of 350 million euros nationwide, according to the data collected by the real estate consulting company Colliers International.
Approximately 70% of this value corresponds to Bucharest, where transactions with plots of land for residential development have represented more than half of the volume of investments. The majority of buyers are investors with foreign capital.
The dynamism of the residential sector with regard to the acquisition of land has come as a result of the market's capacity to absorb both small projects, as well as projects of more than 1000 apartments, in the context, according to the surveys carried out for the European Commission, that the desire to buy a home has been the highest since the end of the crisis. The most active areas were the center and the north of the Capital: Bul- Expozitiei, Bucuresti Noi and the Baneasa area DN1- Jandarmeriei- due to the future office pole of the Expozitiei area, but without forgetting the areas such as Floreasca - Barbu Vacarestu, Aviatiei and Pipera.
Last year, a total of 627,802 properties were sold nationwide, according to data from the National Cadastre Agency and the Property Registry (ANCPI). In the month of December of 2017, the number of houses, lands and apartments that has been sold, nationwide, was 55,974. The majority of property sales, in 2017, were registered in Bucharest, Cluj and Ilfov. The regions with the lowest number of transactions were Teleorman, Salaj and Caras-Severin, according to the ANCPI.
The land market crosses the best period of the last 10 years. The demand has diversified in the course of 2017 from the point of view of the areas of interest and of the real estate sectors with the need for surfaces for new developments. It is also evident the entrance of new investors attracted by the high yields offered by real estate development in the local market compared to other markets or economic sectors. In Bucharest, the residential segment has led to more than half of the transactions with land that has also grown in value. The other half of transactions were provided by the segments of large commercial areas and offices in equal measure, according to statements from Colliers International Romania.