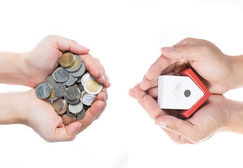 According to a report by the consulting company JLL, investments in new housing in Bucharest are among the most attractive in Central and Eastern Europe. The yields obtained from the rental, especially 2-bedroom apartments, with a useful area of approximately 55 m2, can vary from 5% to 6.5%.
Surprisingly, in residential areas with a high population density such as Dristror-Vitan, Berceni, Rahova or Crangasi, an average yield of 6.5% is reached. In these areas the relationship between the acquisition price, that is lower than in other areas, and the rental price ensure the yield.
On the other hand, there are properties that can generate a yield of 7% or more. Generally these properties are located in areas where the supply-demand ratio is unbalanced, in favour of the owners.
Investment appeal is not just about yield.
According to the consulting company JLL, in the central and northern areas, such as the exclusive Herastrau-Nordului, Kiseleff-Aviatorilor, Dorobanti –Floreasca, Victoriei-Romana-Universitate, yields are lower, around 5% or less; this is explained by the higher acquisition prices in these areas than in other more populated neighbourhoods.
But despite lower profitability, most investment transactions take place in these central and northern areas of Bucharest. This interest is due to several elements. First, these properties have a value that is constantly maintained or growing, and can more easily attract quality tenants with long-term contracts and are rented quickly.
In Central and Eastern Europe, only Warsaw surpasses Bucharest in yield on investment.
Warsaw is the only city in the region that exceeds rental yields of more than 6.5% on average, other cities; Prague yield stands at 4.5%, Budapest at 5.5% or Vienna at 3%.
Bucharest is well situated in the region from the point of view of residential investment activities. Making an assessment of future trends, a conservative or optimistic perspective is maintained, taking into account the cyclical nature of this sector, which means that investors are unlikely to sell their property portfolios in this period. According to the consulting company, the sector will continue to give positive results, mainly at the houses in residential complexes where there are one or more owners and intended for rent. Minimal changes in occupancy rates are expected and consequently the income generated by property owners will remain secure.