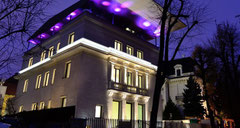 As some experts already expected, the luxury residential segment does not suffer from the effects of the situation generated by the Covid-19. This was one of the conclusions of the conference organized by Cushman & Wakefield Echinox and the Dentons Romania law firm.
Companies in the sector claim that they have resumed negotiations with many clients and have had new demands from new clients and visits have also started. It seems that there is a period of effervescence and people begin to resume the purposes they had before the epidemic.
No pressure on prices
Although the period of isolation has been a difficult period for all, the need to acquire housing for Romanians is still active. As far as expectations and price attitude are concerned, the Premium residential segment differs from the middle class segment. There is no problem of negotiating prices, most buyers are financed with their own resources and no discounts are offered. This is a different segment in which many promoters also have their own resources for project development.
Regarding the behaviour of luxury property buyers, the representatives of Cushman & Wakefield Echinox acknowledge that some clients have decided to postpone purchases, to analyse the evolution of the market, something reasonable, in the sense that this type of client does not have pressure to buy. In the medium and long term, things are expected to return to normal. "Buyers for the Premium segment will not change their preferences. Those targeting properties in exclusive areas will not change their orientation. "Even so, it is expected that this trend will be confirmed in the coming months.
Sales during the isolation period
As we already anticipated in another article The Company One United Properties, sold houses during the isolation period for almost five million euros. They sold apartments of all types and in all the projects they develop, which are seven in total.