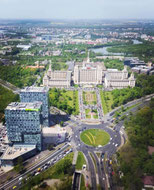 Despite the effects of confinement and the increasing number of people infected with Coronavirus, the Romanian real estate sector leaves positive news in almost all segments.
Residential
The government will modify the state  program of helping for the purchase of housing. This program, which has been operating through state guarantees for home purchases, has been a fundamental pillar for the recovery of the residential market after the 2008 crisis. The reform proposes that the state guarantee covers 80% of the price of housing and will have a ceiling 140,000 euros, double the amount established so before. The buyer's minimum initial contribution will continue to be 5% of the value of the home.
Industrial -logistics
As for the industrial sector, the consultants agree that it has not been as affected as initially thought. The last semester has a volume of rented spaces of 250,000 m2, of which 81,000 m2 are concentrated in Bucharest.
The consulting firm JLL Romania, goes beyond optimism and expects a transaction volume comparable to that of the last 3 years, which would be between 450,000 and 500,000 m2 / year.
This year approximately 600,000 m2 will be completed, which will add to the 5 million m2 in Romania.
As for the rental prices, these have been maintained so far.
Offices
In one of the sectors most affected by this crisis, there is also good news.
KPMG has rented 8,500 m2 of the Miro office project, which will be delivered in 2021, this surface represents 40% of the total available for rent. This building will have a system that ensures fresh and clean air through an HVAC system, in order to create a safer working environment.
Some developers like One United Properties see opportunities in this crisis. Relocations are awaited by multinational companies from Asia to Central and Eastern Europe. Romania has great advantages due to the specialized workforce and infrastructure to accommodate these companies, mainly the internet network. They believe that new trends related to work will be established, such as working near the home, to avoid crowds on public transport. In this sense, there are already mixed office-residential projects in Bucharest.
Retail
Targu-Mures has been the stage city for the first opening of a shopping center in 2020. NEPI Rockcastle has opened this month the 20th shopping center in its local portfolio. This new shopping center has represented an investment of 70 million euros. The shopping center has a rental area of 40,000 m2, 1,500 parking spaces, electric chargers for cars, an outdoor terrace of 3,000 m2, the largest cinema in the region, etc.
At the end of last month the Carrefour Hypermarket with an area of 10,000 m2 was inaugurated in the shopping center complex
Obviously not everything will be good news, but it is certain that everything related above will have a positive impact on the Romanian economy.